From Houston, Texas, Rody began playing percussion in Middle
School Symphonic Band in 1978. He then picked up playing the
drum kit in '83 & began playing in the High School Jazz Band
by day, & playing along with his rock & new wave records by night.
His first official group, "the Rody's," was for an amusement park
talent show, modeled after local Houston heroes, the Judy's.
While attending college for music, he also formed bands to try his
hand at writing & producing original music & covering other acts.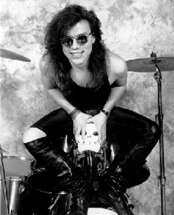 A few years here & there were dedicated to such bands as Pax-In-Terra, In Black & White,
Noy-Z Nayberz, the Noyz , the Naked Apes of Reason, & the Candies.

Enjoying the creative process and the success of working on original material, Rody began writing
more & more, which wasn't always welcomed in some of the bands. After the Candies imploded, he
began writing more of his own songs on keyboards & bass. Reuniting with some old band mates again
as the Semantics at the end of the 90's, the same creative issues came up. Rody soon left them
behind to begin work on his first solo CD," Maybe - plan b" released in 2000.

Moving to Dallas in 2001, he found an ad looking for
a "New Wave Drummer" & GROUP THERAPY was born!